Get the Facts About Being Young with Metastatic Breast Cancer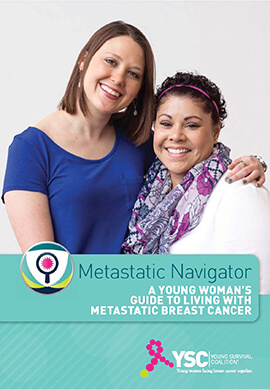 Download the Metastatic Navigator

Already received the Navigator and looking for the survey? Click here to tell us what you thought of this guide.
Breast cancer at a young age is difficult, and a diagnosis of metastatic, or stage IV, breast cancer is even more overwhelming. You might feel alone and have many concerns and not know quite where to start. We're here to help. In this guide, you'll find answers to questions like:
What are my treatment options?
How do I communicate to my doctors, family and friends about my disease?
What resources are available to me?
Download the guide today to take control and get some answers.
Get A Downloadable Copy of Our Metastatic Navigator